Ozark Lake Property
Own Your Own Valley: 35 acres For Sale Near Edwards, Missouri - $42,000
Ladies and Gentlemen, One of my listeners is selling his property in the Ozarks. If you like what you see, fill out the form at the bottom of this page and I will forward it to the seller. He will contact you.
...Chocked full of deer, turkey and small game, this property is directly across the paved road from the Brown Bend boat ramp and access point, which has bathrooms, paved parking, a fishing dock, boat ramp and 24 hour lighting.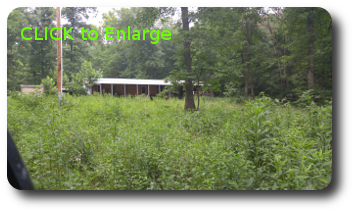 The 35 acres is woods and hills. This property is aching for development and would be a perfect place for a bait-and-beer shop. Anglers and spoon bills descend in droves several times a year and the property has never been hunted. Plenty of morel mushrooms too!
There is a mobile home in need of some repair on site, as well as two prefab garages, one enclosed and one open, that I use for storage. A pole barn covers the mobile home and is very sturdy and could easily be walled into a proper barn. A deep well was drilled 12 years ago and a 750 gallon new septic tank was installed. Power runs to the property and it is on. There is also a 500 gallon propane tank that is more than half full. The mobile home needs work on the floors, especially in the bathroom, but has new plumbing and a working furnace. There is a working central A/C that needs recharging.
Neighbors of surrounding property are very nice and keep an eye out. When I send you the map of the layout you'll see how secluded it is (one way in or out) and that roughly a thousand acres of undeveloped woods and hills surround the property. Perfect spot for preppers or a small hobby farm. Pasturage for goats or sheep (best for goats, due to the underbrush and rocky hills). My land is in a distant corner of the county that is virtually ignored by officials, and better yet we get our electricity from Bagnel Dam's hydroelectric and that's the safest part of the power grid there is.
Located about 30 minutes outside of Warsaw, Missouri, which is the nearest good-sized town and grocery store. Nearest gas station is about 10 minutes away. Looking for a like-minded buyer who might be agreeable to amending the sale contract to allow sharing of the well and electricity access, but this is not a deal-breaker.
You'll love this little slice of heaven in the Ozarks!