Who we are:
We are a family owned and operated business ran by patriotic Americans, we keep the heritage of American manufacturing alive by making 100% of our products in America using exclusively American components. Every Stove is hand made and inspected by the owners of the business.

Rocket Heater with all accessories and delivery in US: $1,800.00


Rocket Heater ONLY, No Accessories or Add-ons, Includes delivery in US: $1,550.00

The Rocket Stove:

The Rocket Heater/Stove is the next generation of wood heating. Capable of efficiently and cleanly burning both pellets and wood, the Liberator Rocket Stove can reduce your yearly need of firewood by 65% over conventional wood stoves. It is capable of burning both softwoods and hardwoods equally well, there is little to
no creosote buildup in the chimney, it burns smoke free, it burns hotter, and it is capable of burning even small wood scraps to heat your home. A handful of sticks provides as much heating energy in the rocket Stove as a log does in an old wood stove.

Burn both wood and pellets!
Pellet Hopper burns one bag of pellets for over 12 hours.

No electricity
No moving parts
100% gravity fed
100% off-grid
Free wood is available almost anywhere.
Burns both hardwoods and softwoods.
The rocket Stove is gravity fed, has no moving parts, and drafts strong for reliable heat in any environment.

Let us know that our friend John Moore is doing good work for America and we will give fellow patriots one hundred dollars off the purchasing price, or a free indiglow miniature rocket stove. The indiglow rocket stove purchased from rocket Stove.com is a lightweight stainless steel rocket stove for camping, backpacking, and survival situations.
We pride ourselves in continuing the legacy of American manufacturing and industry, and we guarantee that all our Stoves are 100% American made with American sourced components and materials. Our Stoves are tested to UL standards and comply with building and insurance codes. We can ship anywhere in
the country and we ship to your home directly.



Dimensions are as follows:

Stove pipe size: standard 6" back pipe.

Dimensions: 16" X 24" X 36"
Weight: 165 LBS



---
Accessories

Sold Individually: Rocket Heater Hopper Accessory Add-on. Shipping to continental US included.

A gravity fed pellet hopper will increase your run time by up to 18 hours. Cleanly and efficiently burn pellets without electricity. No more bucking, splitting, stacking, drying, or seasoning heavy firewood.

.
Sold Individually: Outside Air Intake Adapter/Add-On: $50.00 + $25 hipping ($75.00)


Allows fresh combustion air to be pulled directly from a vent rather than room air. This increases the efficiency of your Stove and prevents cold outside air from entering your home from the Stoves draft.
---
Shipping Details
Shipping Anywhere in Contiguous United States: $300
Shipping includes lift gate service and is delivered directly to your home. The shipping company will even call you to schedule an appointment to drop off your new Stove at the most convenient time for you.
---
Specials and Discounts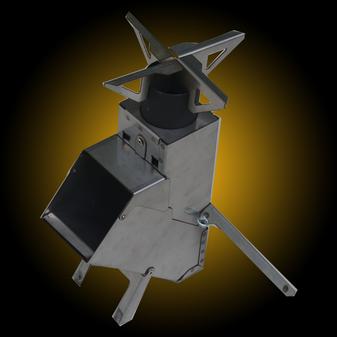 Purchase from John Moore this month and receive a free indiglow miniature rocket stove or a $100 discount. The indiglow heater is effect for camping, hiking, backpacking, and much more! (Additional shipping applies when sold separately, the additional shipping is $14).